Family Mediation Options
If you have made the decision to separate, or if you are currently contemplating separating from your partner, it is important to know right from the start that there are options besides going to family court to become legally separated and/or divorced.
Separation Concerns
When clients initially contact me about separating, they often express some, or all, of the following concerns:
Worries about the cost to separate as they don't have the financial means to go through a costly legal battle with their ex;
Worries that the separation process is going to become ugly and create added stress for separating spouses and their children;
Worries that family court will drag out the separation process and won't provide families with an efficient separation, further delaying the transition and healing process for the entire family.
If you and your partner wish to resolve your issues when separating in an amicable way, and there are no existing power imbalances between you, then mediation will likely be a great option.
What is family mediation?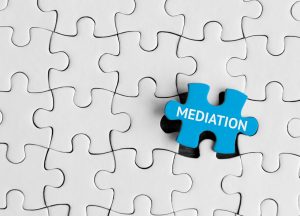 Mediation is a voluntary process where both parties agree to have a mediator assist them in attempting to reach a settlement (each party chooses to enter into mediation and can decide at any time to stop mediation).
The mediation process includes a mediator who is a neutral, third party who facilitates conversations between the parties to try to achieve a joint resolution that is equitable to both parties. The mediator does not have authority to make decisions for the parties.
Decisions are only made if both parties indicate agreement. Mediation gives parties the power to agree upon decisions together which consider the individual circumstances of their family. This is often more preferable than having a judge make the final decision in court, which is outside of their control.
Mediation is a confidential process, as long as the parties agree to enter into closed mediation. This allows parties the opportunity to express themselves openly and to be truthful in negotiations, without fear that what is said during mediation can later be used against them in court or arbitration if a resolution is not achieved through mediation.
The steps of a mediation process
Step 1:
Once both partners express an interest in mediation, the first step is to have an individual intake session with both parties to assess whether you are both suitable candidates for mediation. During these private and confidential sessions, the mediator will answer any questions or concerns that you may have about the mediation process.
Step 2:
After intake sessions have occurred, if the mediator deems it appropriate to proceed with mediation, and both parties express continued interest to mediate, a joint Mediation Agreement will be reviewed and signed by the parties and the mediator, which outlines the terms of the mediation process that they agree to follow.
Before continuing, it is important that the parties realize that full financial disclosure is required if there are financial issues to resolve (including support or when dividing property between partners). Current proof of income disclosure, and existing assets and debts held cannot be avoided by choosing mediation over going to court.
Step 3:
Mediation sessions occur next. Depending upon the circumstances of the parties, and the number of issues and the particular issues being mediated, the number of mediation sessions will differ in each case. During the process, if there is agreement reached by the parties, the mediator will make progress notes indicating the terms which the parties have expressed to the mediator that they both agree upon.
Step 4:
The process concludes with the mediator preparing a written report called a Mediation Report, which indicates terms that have been agreed to during mediation. If parties agree upon only some terms and do not resolve all the issues of their separation, the Mediation Report will be prepared outlining only the agreed upon terms, with no mention of any outstanding issues.
Step 5:
Lastly, the mediation process does not allow a mediator to provide legal advice to either party. For this reason, once the Mediation Report is prepared, it is not a legally binding agreement until both parties receive independent legal advice on the agreement with lawyers. This is an essential part of the process and is required if your goal is to have a finalized separation agreement.
What can be negotiated through family mediation?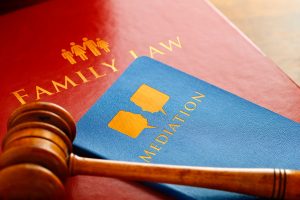 Some issues surrounding a separation that can be negotiated through mediation include but are not limited to:
Child support
Parenting plans
Parenting time schedules for parents and grandparents
Spousal support
Division of assets and property matters
As an accredited and trained Family Mediator, I would love to help you and your partner navigate the separation process and reach a fair settlement that satisfies both parties. Although I will not be able to provide legal advice to either party when acting as a mediator, my family law knowledge as a practicing family law lawyer is an asset when negotiating terms for your separation. I have knowledge of the ins and outs of what is commonly incorporated into a separation agreement and parenting plan and substantial experience in dividing assets and debts between separating partners.
Providing flexible options for you that suits your needs and schedules is possible, and both parties can agree to either have in-person sessions, Zoom sessions, or a mix of both throughout the mediation process. Should you wish to inquire more about mediation, please contact me, Allison Nesbitt, to discuss the possibility of mediation and whether it is a good option for you.